Peitz River Lights - Legacy Donors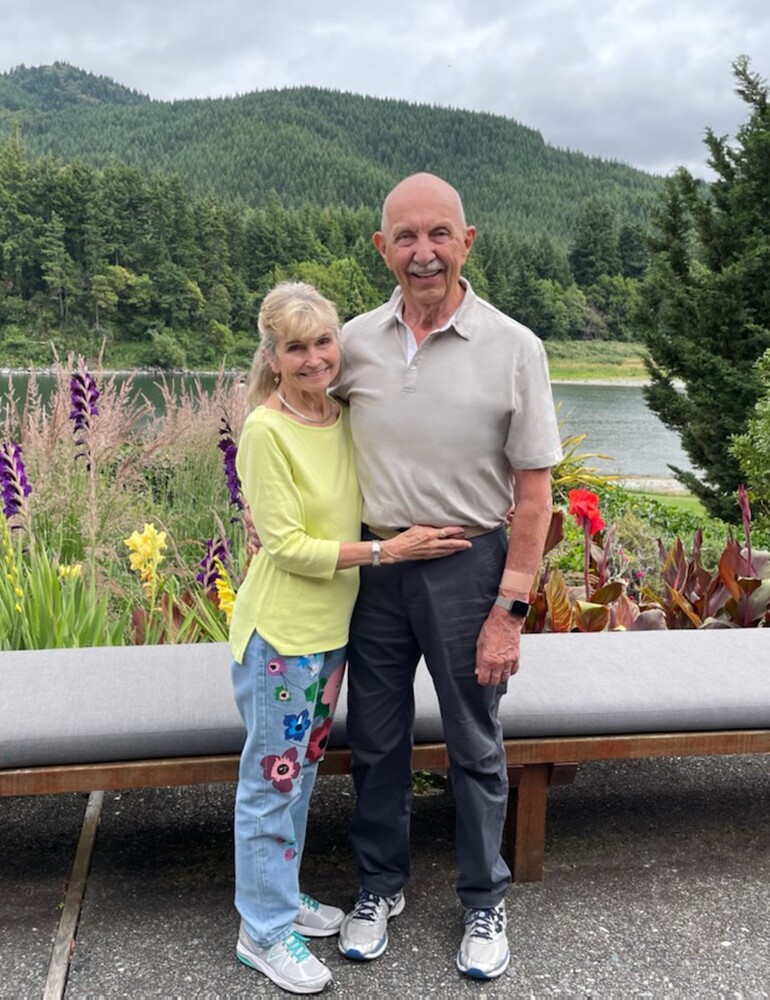 Leadership Through Giving
In the community of Cotter, we are very fortunate to have generous leaders who bring about positive change. Peter and Jan Peitz's passion for Cotter knows no bounds. When we first began fundraising for our bridge lights, the goal felt a long way off. We approached Peter and Jan and, before we knew it, they willingly stepped into the Legacy Donor role.
Their leadership set the stage for many other generous donors to follow their lead. Our donors have opened their hearts and their checkbooks to make the bridge lighting possible. We are so thankful to Peter and Jan for giving the Peitz River Lights gift to our community!
---
The Peitz Story
Peter Uncovers Cotter
Peter's impact on Cotter began in 1970. At the ripe old age of 30, Peter had amassed significant education and experience in Germany, Switzerland, the United Kingdom, and the United States. He discovered a love for our area through an opportunity suggested by Arkansas Governor Winthrop Rockefeller. Shortly thereafter, White River Industries was born.
Peter followed four guiding principles for his company:
Produce clothing that is well-designed and well-made and brings joy to those who wear the clothing

Revitalize a deteriorating Cotter (the departure of the Missouri Pacific railroad in the 1960s had a devastating impact on the community) by transforming deserted buildings into manufacturing locations

Employ people, pay decent wages, and develop a team as opposed to workers versus management

Ensure that the effort is in concert with God's request for humanity
Peter lived and breathed these guiding principles and White River Industries had great success.
Find Solutions to the Area's Challenges
Peter's unrelenting focus on his team's welfare, brought another opportunity that benefits thousands of citizens in our area. White River Industries was predominately staffed by women. Peter witnessed these women struggle in their role as caregivers for parents and other family members who were diagnosed with cancer. The closest treatment facility was in Little Rock. The caregivers had to drive their family members each week for treatments. This meant they had to miss work and pay which eventually led to difficult financial struggles.
Peter and other community-minded people sought a solution. Through fierce determination, the team along with Baxter Regional Medical Center, raised the funds to build a cancer treatment center on the hospital campus. His employee team members now had local access to treatment.
Enter Jan Peitz
Jan has a deep love for helping people. As a registered nurse (RN) she was Director of the Surgery Suites at Baxter Regional Medical Center. Her passion for helping people in their healthcare journey led her to oversee the building of a cancer support center in 1999. She envisioned a safe place for newly diagnosed cancer patients to find resources and answers and support for those undergoing treatment. During the fundraising, Peter quietly became the major donor. (It just so happened, that Jan and Peter were dating during this time. Jan never asked Peter to donate funds; imagine her surprise when her hero enabled her vision to come true). Jan served as the first Coordinator of the Peitz Cancer Support House.
So now those who are diagnosed with cancer have a local treatment center and a support house to guide them through a difficult journey.
Enable Others to Continue the Cotter Dream
Peter and Jan's focus on transforming Cotter has continued for many years, the relighting of the Cotter Bridge is yet another example. Peter found other like-minded people who share his vision for Cotter and who are willing to continue the Peitz legacy. His investment in the Peitz River Lights is the latest springboard for the Cotter Renaissance 2.0.
From 1970 to 2021, Peter's vision for Cotter has come full circle. His legacy gifts will be a lasting tribute to the man with passion and vision who knows how to get things done.
---
The following excerpt from a thank you note written to the Peitz's shows us just how much our citizens appreciate Peter and Jan.
"This entire region has received a very special gift from you! Your unselfish generosity has enhanced the beauty that already sets our area apart. I am certain that I speak for many when I say thank you, and I know your desire to bless others will come back to you many times over. It is an honor to know you".