Bridge History

The Cotter Bridge, also known as the R.M. Ruthven Bridge named after the County Judge, has become one of Cotter's most historical objects. The Cotter Bridge is most likely the biggest bridge of its kind still standing. The Cotter six-span Bridge was designed by the Marsh Engineering Company and was patented by James Marsh in 1912.
The Cotter Bridge was built by the Bateman Contracting Company of Nashville, Tennessee in 1929. The construction of the bridge cost $500,000 and it is approximately 1,850 feet long.
The Cotter Bridge stood for seventy-three years before they started restoring it in 2002. There were forty-four workers who worked on restoring it and even though there was a delay, on August 4, 2003, they were able to finish restoring the bridge. They were able to have the Cotter Bridge finished in 2004. The lighting of the historical Cotter Bridge with more than 3,000 lights was celebrated on December 13, 2004.
The mayor led ten vintage cars across the bridge. The cars included a 1923 Buick Roadster, 1926 Ford Phaeton, 1927 Ford Model T, 1929 Desoto, and several others. The speakers included: Bill Jennings, Wayne Ruthven, Forrest Wood, and Jonathan Barnett. A poem was written by Herbert Messick and was read by his daughter Mary Ann Messick. It was dedicated to all the workers who worked on restoring the bridge and to all the men years ago who built the very historical rainbow arch bridge.
| | |
| --- | --- |
| | |
The re-dedication of the bridge was a day to remember. It started at two p.m. on September 24, 2004, with the singing of our national anthem and the flying of three vintage aircraft from Cotter's "Air Force" overhead at the Valley Fly-In. At 3:00 p.m. the cannon roared to proclaim the re-opening of the R.M. Ruthven Bridge. There were war re-enactors from Mountain Home and Bakersfield, Missouri. The war re-enactors fired their 12-pound Napoleon cannon on the signal given by Hart's Battery while the Cotter fire Department sprayed arches of water to add to the already vast celebration. The ribbon on the bridge was cut by Mayor Bill Jennings of Cotter and Mayor Mary Jane Erwin of Flippin.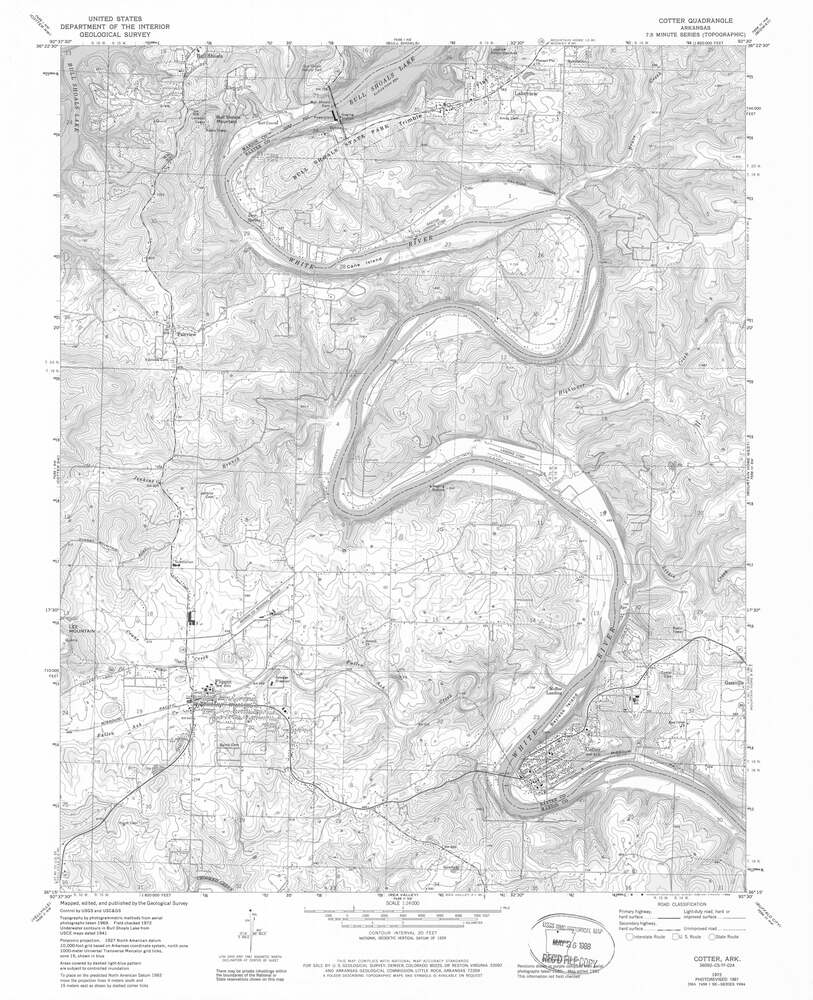 Cotter Bridge, Prints & Photographs Division, Library of Congress, HAER ARK,3-COT,1-